ON Y VA - AUF GEHT'S - LET'S GO! Review and Outlook
We have analyzed both the programme itself and the funded projects to provide some useful knowledge and tips for the future.
The programme's special features
Advice and assistance from the team as well as financial support
Over the past twelve years, one thing has become abundantly clear: to carry out projects, especially international projects, financial support is necessary. In addition to this, advice from the team has proved very useful. Help on communication with partners, assistance with PR and practical ideas on coping with language barriers were popular and contributed to successful project implementation.
Network meetings as an opportunity to compare experiences and find new impulses
The programme placed great emphasis on the exchange of experiences. Regular seminars were held for representatives from the funded projects, prospective and former programme participants. Even though the projects were diverse, the participants had similar questions (financing activities, communication with partners, finding new participants …). They were all able to profit from the suggestions and discussions. In addition, they received input from the dfi and external speakers. For an uncomplicated way of making contacts between the seminars, a discussion platform was created in 2015 to provide a protected environment for information and discussions on activities.
Visibility and recognition
There are many great Franco-German and European projects, but they often lack visibility. We supported the teams with their public relations and marketing. In addition, the programme had its own PR instruments, the project website, a newsletter and a Facebook page, giving the activities additional visibility.
Breadth of involvement
The programme's starting point was that active citizenship is prevalent and takes on many forms. For this reason, the eligibility criteria did not specify group size, age, topics etc. This approach proved right. The applications received and projects funded demonstrate the diversity of initiatives in Germany, France and Europe. During the programme period
403 applications were received
107 projects received funding, 60% of these were associations
Partners were found in 16 European countries (in particular 3rd partners from Poland and Italy) and 6 partners from outside the EU as 4th partner (Senegal, Russia, Burkina Faso, Palestine, Bosnia, Ukraine)
Funding was given to projects from diverse areas of interest (music, culture, social work, education, environment, Europe, sport, health, migration …)
A wide range of formats emerged
The programme demonstrated that there is not just one type of international exchange. It is not always necessary or even desirable to come up with innovative formats. On y va has funded both traditional cooperation projects with classic visits and return visits and also meetings held elsewhere offering an opportunity for activities and reflection.
Both small meetings as well as larger, long-term projects received funding. The budgets ranged from €2,000 to €153,000, although budgets of over €50,000 were the exception. The funding was vital for around one third of the projects, as more than 60 % of the total budget came from on y va. In many cases, there was co-financing.
Conditions for a successful project
The importance of the background
The partners' constellation and the division of tasks between them is a critical factor for the success of a project. International projects are more likely to succeed when they are anchored in a broad network (institution, umbrella organization, town …). Tasks can be more easily shared and the results more effectively publicized. Complete parity between the partners is not necessary, it is just important that individual competence is recognized and contributes to the project.
The question of language arises in all international cooperation. Making knowledge of the partner languages a precondition might rule out some of the target audience, whereas use of interpreters has a negative effect on both direct communication and the budget. Our experience has shown that different languages or lack of language skills is not usually a barrier to exchange. Various set-ups are possible:
Use of non-verbal communication (art, music …)
Presence of key individuals who can speak several languages
Language animation
Use of English as working language
Use of interpreters (typically in a voluntary capacity)
To avoid misunderstandings and to complete the project in the agreed way, it is especially important that the project team finds an effective and good way of communicating.
Getting to know the partners is essential at the beginning of all cooperation. This can take place online, but a face-to-face meeting is better because it is important to build up a relationship of trust and to talk about expectations, ways of working and skills. As the project advances, a clear distribution of tasks and regular (digital) communication help. Differences of opinion and misunderstandings should be aired straight away in an objective manner. In an atmosphere of mutual trust, such issues can normally be dealt with quickly.
Trust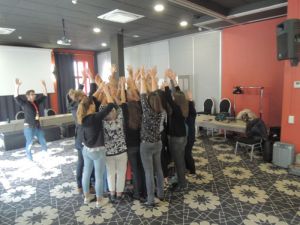 ©dfi
Language is no barrier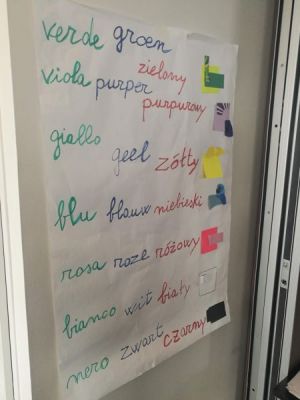 ©dfi
Distribution of tasks in the team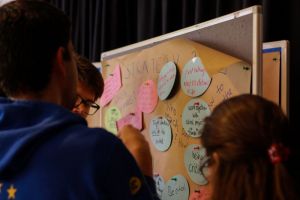 ©Dominik Winkler